Solar Power Inverter for Pumping - MICNO Electric - KE300A-01 T4~3 Phase 380 to 415V [0.75 to 110kW]
Solar Power Inverter for Pumping irrigation water, supply bores dams tanks
MICNO Electric Solar Power Inverter KE300A-01 T4~3 Phase 380 to 415V [0.75 to 110kW]
Solar Power Inverters are used in many different industries as variable speed controls for starting large electric motors, lift-wells  and of course pumps for bores that are left running in remote areas and will stop automatically when water levels are to high or run dry.
Need Solar Power Inverter to manage all your remote pumping needs!  Then look at the KE300 Sensor-less Vector Control Inverter.
A huge 3 Phase 380 to 415V [0.75 to 110kW] Solar Pump Inverter.
Solar Power Inverter Details
MINCO MPPT Solar Power Inverter
Maximum Power Point Tracking [MPPT] is a function for solar systems to get the maximum possible power from one or more photovoltaic devices, typically solar panels.  
Solar panels have a complex relationship between solar irregular radiation, temperature and total resistance that produces a nonlinear output efficiency which can be analysed based on the I-V curve. It is the purpose of the MPPT system to sample the output of the cells and apply the proper resistance [load] to obtain maximum power for any given environmental conditions.
By adopting this technology in the solar pump inverter, it increases the working efficiency of solar panels, and also adjusts the output frequency of inverter based on the sunshine strength insuring that the system always works at an optimum condition.
MICNO Solar Pump Inverters are widely used in multiple applications for converting power from solar DC to AC energy for pumping applications like:
Swimming pools, drink water, water tanks and storage.
Irrigation, agriculture, deep well submersible borehole pumps, high flow rate high pressure agricultural irrigation animal farming,
Water treatment plants, Dams, Rovers and eco control
ApplicationThe KE300-01 series solar inverter adopts Max Power Point Tracking and proven motor drive technology to maximise power output from solar modules.
It supports both DC and AC power inputs. When solar power is not available, the controller can be switched to an alternative AC power supply such as a generator or AC mains.
The inverter provides fault detection, motor soft start, and speed control as well as plug and play ease of installation.The system is fully automatic making it unnecessary for manual intervention as it will auto-start as per the restart settings. 
A built-in Anti-Dry-Run function prevents the pump from running dry when water levels fall below a predetermined point. This system protects the inverters electrical system and protects the pumping system from running dry and burning pump components and impellers out.
The MPPT function is built-in, and can adjust the output voltage according to the suns radiated intensity assuring that the pump is always working at its best status.  The smart control function of the KE300-01 series  controls the water levels dynamically, with multiple terminals for analog/digital sensors. 
The MPPT function starts or stops the pump operating when water levels reach preset values entered during setup.MICNO KE300 series pumping inverters can combine solar power source [DC] and mains power source [AC], realise automatic switch between the two power sources and an uninterrupted water pumping.
This means no manual attention is required when DC power is not sufficient to drive the system,. The inverter on its own can switch to the mains power when the DC power is insufficient switching back to the solar energy when DC power is charged.MICNO Time ControllerAn additional accessory to save on power cost is the MICNO Time Controller.
The time controller is used to set the inverter to take power from the grid at nominated times. For example the power in your area may be cheapest between 12:00 midnight and 07:30 am. The timer will switch over to mains power at midnight and switch back to solar power at 07:30 in the morning.MICNO Remote Monitor System' [RMS].
Because solar pumping system are always installed in rural or isolated areas and the traditional control methods  require cabling has been always troublesome. MICNO have designed LOT [Internet Of Things] system. Now customers can simply use a GRPS module by inserting a sim card into the module, connecting the Solar Inverter Pump in real time the operation to the operator of the system via mobile or computer using a dedicated app.
Minco solar pumping system consists of solar panels, inverter and pump. Available voltages and applicable motor power ratings:
Single phase AC 220V Single Phase Inverter: 0.4KW-5.5KW motor
Three Phase AC 220V Three Phase Inverter: 0.4KW-30KW motor
Three Phase AC 380V Three Phase Inverter: 0.75KW-200KW motor
The available voltages and applicable motor power ratings:
Single phase AC 220V Single Phase Inverter: 0.4KW-5.5KW motor
Three Phase AC 220V Three Phase Inverter: 0.4KW-30KW motor
Three Phase AC 380V Three Phase Inverter: 0.75KW-200KW motor
Description of Nameplate
Technical Specifications
Quality Control for Solar Power Inverter
R&D test:
Testing the hardware and software performance before production is to ensure that it is working at its design optimisation and produces excellent performance.
Board test: Is the testing of the performance of every board in our inverters to reduce product defective rate.
IQC Is taking strict quality inspection for every income component to ensure all components are quality tested and qualified before use.
Ageing testing: Is operating all inverters to run status, by putting them in the ageing test house at 50°C for 48 hours, to remove every unqualified inverter.
Load test: The last and the most important test by adding different loads to the inverters, test their input and output value, to check their working performance.
Unqualified products will be removed from the testing team. By applying such strict testing process, MICNO ensures every outgoing Solar Power Inverter has passes a quality insurance testing process 
Packing: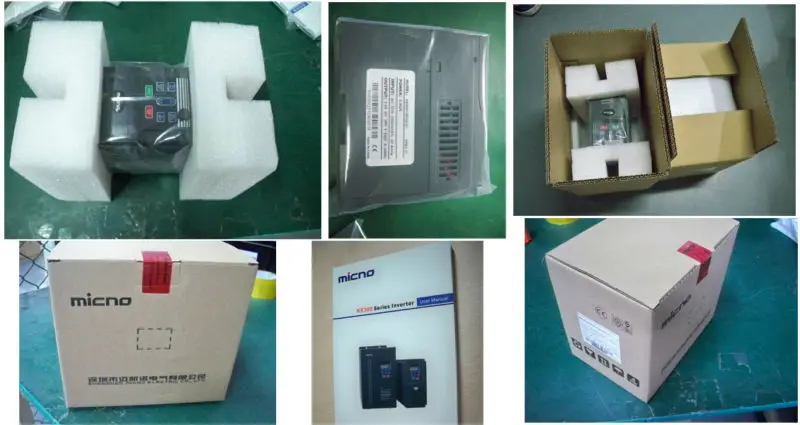 Standard export carton box & plywood case  
Shipping:Lead time:    1-7 days for small orders, 1-25 days for batch orders.
Payment and Terms:
To order any products through https://myrenewableenergy.com.au/ full payment 100% will be paid in Advance and held in trust by My Renewable Energy secure Payment Gateway [Shopify / STRIPE].
Once payment has been processed and approved the Vendor fees are paid directly before assembly and packaging begins.
After products have been confirmed ready for delivery, the freight forwarding company will pick your order up directly from the vendor and arrange for delivery to your nominated address in Australia.
The remaining funds held will pay for shipping fees, Australian customs duty, Port handling fees, delivery from port to your nominated address and marketing site fees.
 If you require any further information about Solar Power Inverter and Solar Pump inverters, feel free to contact My Renewable Energy by using the contact form located on the main menu.
---
We Also Recommend
---